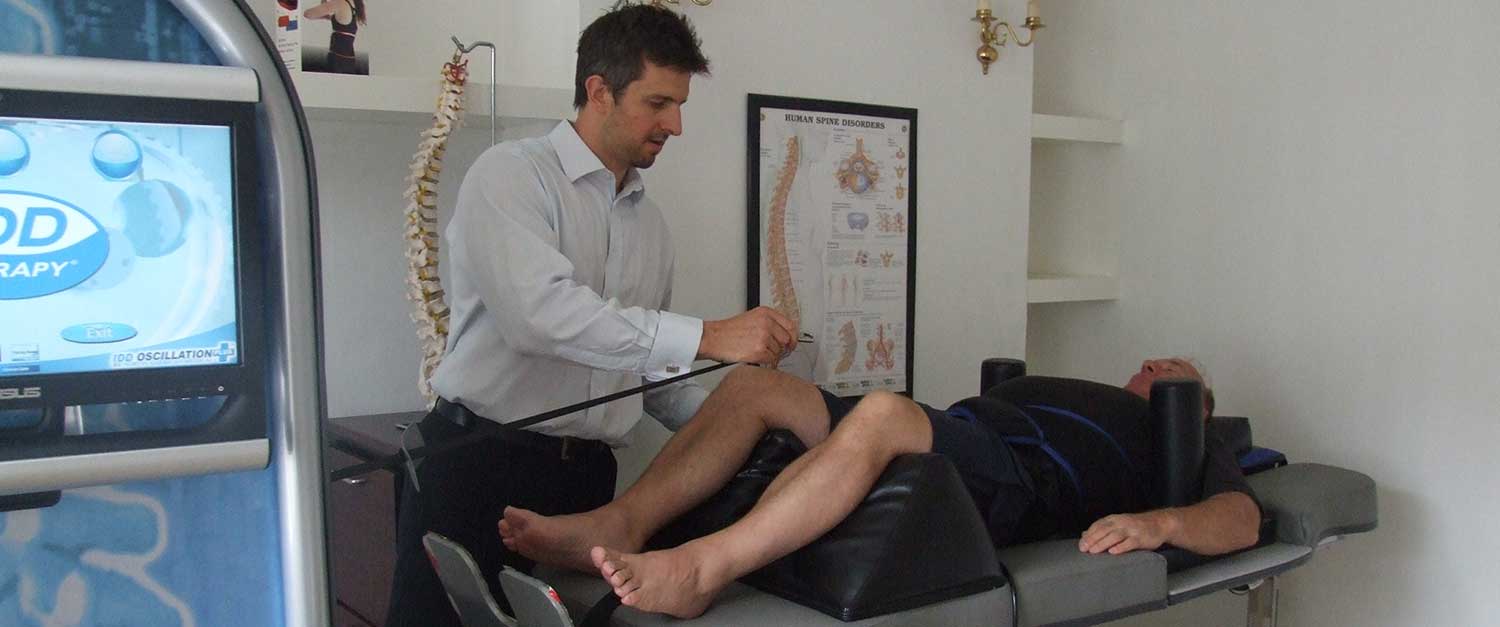 UK's most experienced IDD Therapy provider
Call 0203 369 8577 to book an appointment In London

FREE MRI Review available
Call 0203 369 8577 to book an appointment in London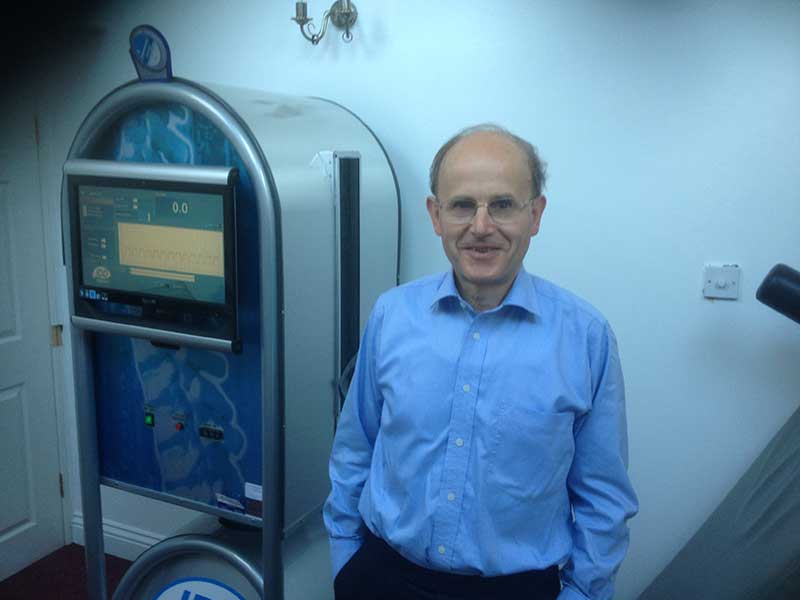 "For 40 years or more, I have suffered with some degree of back pain, but about ten years ago it became much worse. Physiotherapy did not help - indeed, it only aggravated it. After 20 or so sessions with Spine Plus, using the IDD, there was a dramatic improvement. Now, two years later, I have virtually no back pain at all."
Peter Parson (On IDD / Spine Plus)
Do You Suffer With Lower Back Pain, Neck Pain, Sciatica, Slipped Disc or Trapped Nerves?
If you do and traditional treatments such a physiotherapy are not making any improvements, then IDD Therapy at Spineplus Clinics may be just the treatment you need!
Click Play To See How Spineplus IDD Has Helped John!
Having suffered with low back pain and Sciatica for 4 years and despite having tried various other physical therapies, John came to see us at Spine Plus Clinics for a Free Review. His MRI scan revealed, a broad based disc injury (protrusion) at L5/S1 vertebrae that was compromising the left L5 nerve root in his spine. This had been causing him serve pain and discomfort for 4 years. We established a treatment plan with a combination of IDD Therapy, and Medical Acupuncture (Paraspinal dry needling) and core strengthening exercise this is his story.
What is IDD Therapy?

IDD Therapy is the successful and trusted non-surgical spinal decompression treatment which is helping chronic back and neck pain sufferers to regain a normal active life.

Safe, gentle and non-invasive, IDD Therapy addresses the failings of traditional traction and the natural limitations of what clinicians can do with the hands alone.

The treatment involves the gentle distraction (drawing apart) of targeted spinal segments to remove pressure from spinal structures including the discs, and at the same time to work tight muscles and stiff ligament to help improve mobility in the joint.

With over 1000 clinics internationally and more and more clinics providing treatment in the UK, in 2011 our Chigwell clinic, was proud to be the first clinic in Essex to offer IDD Therapy treatment. Following our success in Chigwell, two years later we established a second site offering IDD Therapy, in central London.
Why choose IDD Therapy?

If you have persistent back pain or neck pain or suffer with any of the following conditions, you may be a suitable candidate for the treatment:
Herniated Disc (lumbar or cervical)
Degenerative Disc Disease
Sciatica
Slipped Disc
Chronic low back pain

How does IDD Therapy work?
An Introduction to IDD Therapy
Spine Plus clinics that provide IDD Therapy – Call & Book Today
Computer-controlled treatment at precisely measured angles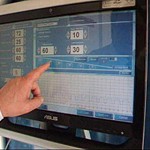 As the joints are distracted, pressure is taken off the disc, joints and nerves. The targeted spinal segment is gently mobilised to create pressure differentials to help improve a flow of fluid and nutrients into the disc space.
These fluids and nutrients help with healing and repair and the gentle, oscillating movement helps the joints to become lubricated and to move more freely.
Where a disc is pressing on a nerve and causing pain, this mobilisation may help the body to retract a bulging disc and thus remove or reduce the pressure and therefore relieve pain.
Our goal is to help the body move freely. Whilst we can do this with our hands most of the time, IDD Therapy gently stretches tight muscles and stiff ligaments in a manner which is not possible with the hands alone.
Working the soft tissues with the SPINA machine helps the body move more freely and as you get more mobility in the spine, this helps the body's natural healing mechanisms.

Improve joint mobility to free the body's natural healing mechanisms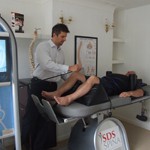 IDD treatment is gentle and safe. There are built-in safety features and the aim is for you to remain as relaxed as possible; many patients actually go to sleep although we prefer that they remain awake so that they can feel the full effects of the treatment.
Each treatment on the SPINA machine lasts approximately 25 minutes; this is the time needed to work the spinal structures adequately to help bring about the physiological changes we are seeking.
Before treatment we apply infrared heat to the area to increase blood flow into the soft tissues. After treatment we apply cold packs to reduce post treatment inflammation and encourage improved collagen formation within healing discs.
IDD Therapy combined with exercise for a complete treatment programme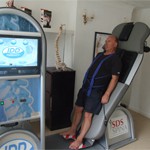 If you have had back or neck pain for a while certain segments of your spine may be stiff or tight, this can impede circulation and healing capacity. At the same time certain "core" muscles that support the spinal column are likely to have "switched off".
The key to a healthy spine is flexibility COMBINED with strength so as part of your IDD treatment plan our practitioners will gradually introduce specific gentle exercises and activities to promote core stability, spinal mobility, good posture, correct breathing and correct lifting techniques.
MRI Scan Review
How many sessions will I need?

Depending on the extent of the problem different people require different amounts of treatment. We strongly recommend that new patients undergo a thorough initial assessment with one of our senior practitioners, including where possible discussion of MRI scan results, so that we can determine whether IDD is appropriate and if so which disc level of the spine to target. For appropriate patients improvements in symptoms are often noticed after just a couple of sessions, this happens as pressure is taken off squashed discs and pinch nerves. However, in order to have the best of long term healing in the disc and lasting symptom improvement a course of 20 sessions is usually recommended. Research and trials undertaken by North American Medical, who developed the machine, is that approximately 25% of patients require a course of up to 10 sessions and that 75% need 15 – 25 sessions. We encourage new patients to commit to a minimum of 10 sessions intially and then undergo a review to decide whether more sessions are desirable. After an initial course of treatment, some patients maintain the progress achieved with single infrequent top sessions a few times a year. Before embarking on a course of IDD therapy we strongly encourage an initial assessment with one of our senior therapists.
Why Choose Spine Plus
Many patients report that as treatment progresses, their sleep patterns improve. This is very important since not only will a good nights' sleep make you feel more refreshed but also it is an indication that the spine is becoming more relaxed (and less painful) as a result of the treatment. In its relaxed state during sleep, pressure on the discs is relieved which allows fluid and nutrients into the disc.
MRI scan review.
IDD Therapy integrated with other treatments where necessary (dry needling, osteopathy, clinical Pilates etc).
Recommendation for other (non-surgical) treatment where necessary.
Interested in IDD Therapy? Why not book an appointment?
What Other Customers Say About IDD Therapy?
Reehan
37 year old Reehan consulted Spine Plus after suffering with severe sciatica for over 12 months due to a large disc herniation, During that time he had tried numerous therapies including physiotherapy, chiropractic and podiatry unfortunately without any improvement in his symptoms.
David
46 year old David suffered for 14 months with chronic back pain and sciatica as a result of a large disc herniation at L5/S1. David suffered extreme muscle spasm which left him unable to walk more than a few steps at a time; he found simple actions very demanding.
Richard
I had been suffering with a bad back for 6 years, this was making my work as a builder nearly impossible. MRI scans showed I had a degenerative disc at the L23 level of my spine. When my back was really bad it would also cause pain in my thigh and groin area!
4 years ago this patient suffered an injury where she couldn't walk and had pain down both her legs. After discussing the symptoms with her GP she was referred to a back specialist who advised surgery. After her own research she went to see a surgeon who suggested she was a borderline case for surgery and then referred her to Spine Plus who recommended IDD therapy. After the full course of treatment, she was back walking again. The patient continues to exercise accordingly to regular routines and now walks 8-10 miles a week.

Contact us today
Read all about IDD Therapy in the news
How To Book Treatment or Receive a FREE MRI Review & Mini Assessment?
Spine Plus clinics that provide IDD Therapy – Call & Book Your Consultation Today
Fees – IDD Computerised Spinal Decompression Therapy At Spine Plus Clinic Harley Street

Price

Free 15 Minutes MRI Review & Mini Assessment. Click Here to Book Online for Harley St Clinic 
FREE
Full Pre IDD Assessment incl, Full MRI review, Consultation, Full Treatment Planning & Advice
Consultation By – Senior Therapist vs Director
£120 – £200
Single IDD Therapy Session (60 min)
£80
10+ IDD Sessions Booked & Paid in Advance (save £5.00 per treatment)
£75 Per Session
| Fees – IDD Computerised Spinal Decompression Therapy At Chigwell Clinic | Price |
| --- | --- |
| Free 15 Minutes MRI Review & Mini Assessment. Click Here to Book Online for Chigwell Clinic  | FREE |
| Consultation, Treatment, Planning & Advice | £80 |
| Single IDD Therapy Session (60 min) | £80 |
| 10+ IDD Sessions Booked & Paid in Advance (save £5.00 per treatment) | £75 Per Session |