Osteopath in Stratford
SpinePlus Clinic Stratford, is one of our latest clinics with SpinePlus. In the heart of East London building on the huge success of our existing SpinePlus Clinics, we are looking to be able to spread even more specialist Osteopathy care to the local community.
At SpinePlus Stratford we can offer you specialist treatment and diagnosis in all areas of Osteopathy including Back Pain Treatment, Neck Pain Treatment, Sciatica Treatment, Shoulder Injuries, Sports Injuries, and Rehabilitation.
Please remember you really don't have to suffer, call us today, get assessed by our specialists and get on the road to recovery with East London's & the UK's Finest Treatment Team.
Our Stratford Clinic
Our Ultra Modern & Bright SpinePlus Clinic in Stratford in in the heart of the Olympic 2012 host borough, and it provides the perfect venue to be treated. This clinic in Stratford East London is one of the latest clinics to the growing list of Spine Plus Specialist Treatment Centres, it will offer our patients a welcoming environment in which to be treated by our highly trained, and experienced team of consummate professionals.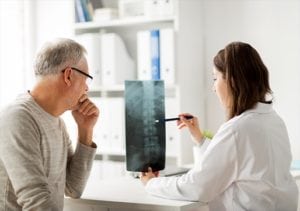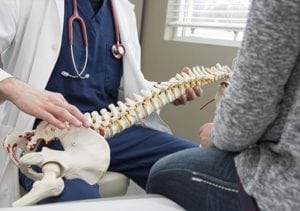 What We Do
At SpinePlus Stratford, we pride ourselves in providing expert back and spinal care. We also provide specialist treatments that include:
Medical Acupuncture Therapy
Trigger Point Therapy
Second opinion spinal MRI review
Corrective Exercise Advice
At Spineplus Stratford Our Osteopaths are highly trained in preventing & treating health problems by moving, stretching, manipulating & massaging joints & muscles to help them to function better together. We can help treat: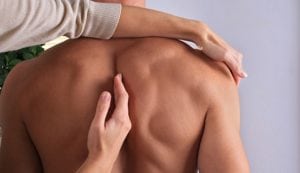 Back Pain Treatment
Neck Pain Treatment
Arthritis Treatment
Sports Injury
Shoulder Injuries
Sciatica Treatment
Headaches & Migraines
Spine Plus Sports massage therapy is only available at our Bow clinic E3, a 15 min walk from the Stratford Clinic.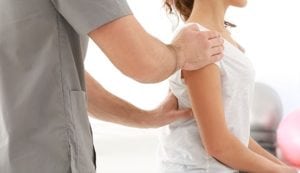 Back Pain Treatment
Sports Injuries
Deep tissue massage
Marathon runner deep leg massage
| | Price |
| --- | --- |
| Initial Consultation & Treatment (60 mins) | £70 |
| Follow Up Treatment (30 mins) | £55 |
| Clinic Director (Darren Chandler) | Price |
| --- | --- |
| Initial Consultation & Treatment (60 mins) | £110 |
| Follow Up Treatment (30 mins) | £70 |
| | Price |
| --- | --- |
| 90 minutes | £90 |
| 60 minutes | £60 |
| 45 minutes | £50 |
| 30 minutes | £35 |
Darren Chandler - Osteopath & Clinic Director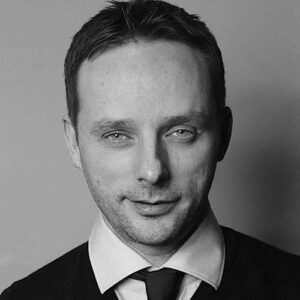 Darren teamed up with Robert in 2006 and together they established Spine Plus's London based chain of clinics. Prior to forming Spine Plus, Darren had been a national level badminton player and personal trainer, training many celebrities in London's West End. Darren studied at the British School of Osteopathy (BSO) where he was awarded the coverted student of year award in 2002. This was followed by training with the British Medical Acupuncture Society (BMAS) and courses in electrotherapy. Darren has a keen interest in clinical diagnostics and specialises in spinal, sports and work related injuries.
Terry Beach - Massage Therapist
Terry is renowned for his "magic hands" – he is a naturally gifted sports massage and deep tissue massage therapist. Terry's main days in Waterloo are Wednesdays and Fridays, although he is sometimes available on other days and for home visits. Terry is one of our newer recruits; however in the time that he has been with us, his reputation for no-nonsense, firm, effective sports massage has spread like wild fire! Terry has already helped several national level athletes and sports people achieve their goals.
236 – 252 High Street, London, E15 2JA
236 – 252 High Street, London, E15 2JA

Opening Hours
| | |
| --- | --- |
| Monday | 9am – 1pm |
| Tuesday | 9am – 8pm (Bow clinic only) |
| Wednesday | 9am – 1pm |
| Thursday | 9am – 8pm (Bow clinic only) |
| Friday | 9am – 2pm |
| Saturday | 10am – 4pm (Sports massage only) |
| Sunday | Closed |
Getting Here
We are located within the In Health Diagnostic Centre Stratford, which is on InHealth 236-252 High St, Stratford. So we are perfectly located for anyone in the local area or coming in Stratford on the Central Line, DLR, Jubilee Line or the Over Ground.
Coming by Tube, we are within an easy 5 mins walk from Stratford Station on the Central, Jubilee Line or the over ground from Ilford or Liverpool Street, We are just across the road from Stratford High Street Station on the DLR.
Coming by Taxi, we are only 25-30 minutes from the City of London.
By Bus Take either the 25, 108, 276 or 425 bus routes and disembark at Stop N Carpenters Road.
By Car, parking is available in the surrounding streets with parking meters.
On the recommendation of a friend, I took advice from the team at Spine Plus for a niggling lower back injury. I was assessed by Darren and reassured I needed to see Terry Beach resident
sports massage
therapist. I feel the treatment I have received is second to none. I have regular sports massages from Terry and I would say he's up there with the best. I've had plenty of experience with different therapists and these guys are on the money.
"The treatment I have received is second to none" Thanks SpinePlus Clinic, i'll see you again very soon!Alton
We would all like to thank SPINE PLUS for being part of our British Tour in 2012. Be great to have you on board in 2013





Registered With Major Insurers